Three Typed Letters Signed (the first two in full and the third 'E P Gorini') the first two to Violet Bonham Carter and the last to her son Mark, the first in English and the last two in Italian.
Author:
Edvige Pesce Gorini, Italian poet, editor of the 'Giornale dei Poeti' [Violet Bonham Carter (1887-1969); Mark Raymond Bonham Carter (1922-1994), Baron Bonham-Carter, Liberal politician]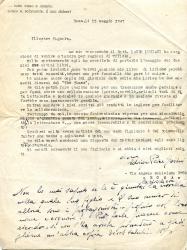 Publication details:
21 February 1946; 15 May 1947; and 28 July 1948. All three from Via Angelo Poliziano No. 69, Rome.
SKU: 8015
Text of all three items clear and complete. All three on lightly aged paper, creased and with some wear to extremities. Letter One (8vo, 1 p; 20 lines of text): She thanks Bonham Carter for her 'kind and appreciative letter' and 'will see that through the English Embassy' she receives 'a copy of my short story: "I due prigionieri", of which your son is the protagonist'. (An officer in the Grenadier Guards, during the war Mark Bonham Carter had escaped from a prison camp in northern Italy.) Describes material she is sending relating to her 'literary career'. The TLS 'spoke well of my poetry books'. Asks if it might be possible for her 'last novel, which just came out, entitled: "Viaggio di Nozze" ' to be translated into English, or to have, 'now and then, some of my short stories published in English Magazines and Reviews?' Bonham Carter, 'as a mother', 'will realize that, after the loss of my husband, the burden of my family is wholly on me. As you may know living conditions here are terrible; during my absence from Rome my apartment was ransacked, and I lost everything. This the reason why I must work to earn some money to support myself and my boys.' Letter Two (4to, 1 p; 24 lines of typewritten text and six-line autograph postscript): Her friend Doctor Lando Luciani is going to London on a business trip, and has agreed to take with him Gorini's two latest books for Bonham Carter. Once again enquires regarding the translation of her works into English. Letter Three (8vo, 2 pp; 48 typed lines and a 7-line autograph postscript): She is sorry that she has not received 'la rivista contenente la novella che ricordava l'episodio di montagna; in questi giorni ho mandato la stessa novella ad un quotidiano della Sicilia e appena uscira gliene faro mandare due copie; poiche c'e il suo nome vero e il nome del suo amico sara un ricordo di quelle giornate calamitose. [...] Mi fa piacere che lei ricordi l'Italia con simpatia e se mai venisse a Roma, magari per l'Anno Santo, nel 1950 non dimentichi di venirmi a trovare . . . se io saro ancora viva'. Further speculation on the translation of her work into English, in London or New York. Asks what Bonham Carter is doing in the latter place. Also included, on four pieces of paper, are two sets of two typewritten transcripts of reviews of Gorini's work: the first from The Times, 27 December 1923, of 'Il Ritorno' ('The volume is already in its second edition, and it deserves to be popular.'); and the second from the Times Literary Supppement, 19 March 1925, of 'Nativita'.
Phone enquries
RICHARD M. FORD
Tel: +44 20 8993 1235