[book] Comments on Cain. [inscribed by author, and with two typed slips correcting legal points emending the preface]
Author:
F. Tennyson Jesse [Eugen Weidmann]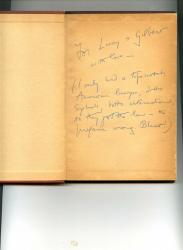 Publication details:
London: William Heinemann Ltd, 1948.
SKU: 9438
8vo, xxiii + 149 pp. Frontispiece drawing of Eugen Weidmann by Gea Augsbourg. On aged paper, in worn red cloth binding. Inscribed on the front free endpaper 'For Lucy & Gilbert with love - | (I only had a topnotch American lawyer, ditto English, ditto international, so they got the law in the preface wrong. Blast!)' A large part of p. xi has been deleted by Jesse, with a slip containing a substitute passage of twenty-five lines has been taped over it. Four lines are deleted from p. viii, with an eight-line typed slip taped over it. Two words are added in autograph by Jesse to pp. viii and xvii.
Phone enquries
RICHARD M. FORD
Tel: +44 20 8993 1235