[General Gordon; handwritten] Notebook containing notes from his researches about General Gordon in Wortham's hand
Author:
[General Gordon] H.E. Wortham (1884-1959), biographer, journalist, music critic and writer, author of two books concerning General Gordon.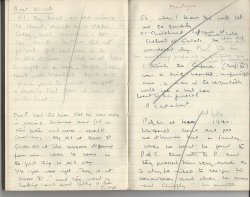 SKU: 23544
Notebook, marbled boards (blue), spine of black tape, not paginated, notes on approximately 77 pages, with bits on other pages. See image. He makes notes from his reading/researches. Initially, for example, he makes notes on a. Gordon's Letters to His Sister [pub. 1888], quoting, summarising or commenting, concluding with a long quote from Gordon's letter when on the way to Khartoum, 32 pages. Then notes on b. Sir Gerald Graham's Last Words with Gordon (1887) (inc. lengthy summary of Gordon's appearance re. Graham), 10pp. c. Note/quote from In 4 Continents, concluding see later in book for some China stories. d. More about Gordon - by one who knew him [well] (Mrs Freese), c.25pp. Other brief notes appear without attribution. E.g. on the first page, C.G. Gordon. || Did not talk Arabic [words underlined individually] | He did! And comments, for example on The Letters, With the exception of 2 or 3 written earlier, these begin at Gravesend - 1866. Wortham's signature and address are written by him in pencil inside front cover. Wortham wrote Chinese Gordon (1933) and Gordon: An Intimate Portrait (1933).
Phone enquries
RICHARD M. FORD
Tel: +44 20 8993 1235