[Yurievskaya ] Autograph Card Signed "Princesse Yourievsky" to unnamed female correspondent, in French, profusely thanking her for a gift destined for the "Hopital russe"
Author:
Princess Catherine Dolgorukova (1847-1922), long-time mistress of Emperor Alexander II of Russia and later given the title Princess Yurievskaya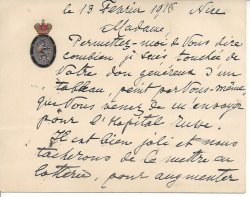 SKU: 22708
Card, 13 x 10cm, text on both sides, card with attractive coloured and embossed royal insignia. "Permettez-moi de vous dire combien je suis touchee de votre don genereux d'un tableau, [?] par vous-meme qhe vous verrez de m'envoyer pour l'hopital russe. | Il est bien joli et nous tacherons de le mettre au lotterie, pour augmenter les fonds de l'Hopital, dont il a besoin souvent. | Avec mes vifs remerciements [...]" See image of first side.
Keywords:
Phone enquries
RICHARD M. FORD
Tel: +44 20 8993 1235