[N.C. Daruwalla; booklet] Bombay as an Educational Centre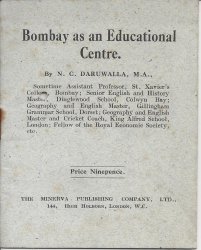 Publication details:
The Minerva Publishing CompanyLtd, London, [1921?]. See image.
SKU: 23625
Small booklet, 24pp., 16mo, small wormhole, through blank space of text, , rust around staple, punch-hole slightly affecting the text characteristic of material from the papers formerly held at the headquarters of the National Indian Association and the Northbrook Society, 21 Cromwell Road, later by its former Warden, Roland Knaster. Scarce. One other copy traced, in the National Library of Wales.
Phone enquries
RICHARD M. FORD
Tel: +44 20 8993 1235