[Earl Canning; The Great Game] Autograph Note Signed Canning to Lord Fitzgerald, presumably William Vesey-FitzGerald, Baron FitzGerald, as President of the Board of Control (see note), concerning the despatches of Col. Stoddard, British agent.
Author:
Charles Canning, 1st Earl Canning (1812 -1862), as Parliamentary Under-Secretary of State for Foreign Affairs, statesman and Governor-General of India during the Indian Rebellion of 1857.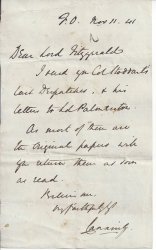 Publication details:
F.O. [Foreign Office], 11 Nov. 1841.
SKU: 23629
ANS, one page, 12mo, fold marks, one edge rough, some faint staining, text clear and complete. Dear Lord Fitzgerald | I send you Col Stoddart's last Despatches, & his letters to Ld Palmerston. | As most of them are the original papers will you return them as soon as read. See image. Note: A. The President of the Board of Control was a British government official in the late 18th and early 19th century responsible for overseeing the British East India Company and generally serving as the chief official in London responsible for Indian affairs. The position was frequently a cabinet level one. The position was abolished in 1858 with the abolition of the East India Company. It was succeeded by the new position of Secretary of State for India; B. Dispatched on a mission to persuade the Emir of Bukhara to free Russian slaves and sign a treaty of friendship with Britain, he was first arrested by the Emir Nasrullah Khan in 1838. In November 1841 Captain Arthur Conolly arrived in Bukhara with part of his remit to attempt to secure Stoddart's release. He was unsuccessful. Both men were executed on charges of spying for the British Empire on 24 June 1842.
Phone enquries
RICHARD M. FORD
Tel: +44 20 8993 1235