[John Rich; theatre; Beggars' Opera] Signature with some unexplained text. See image.
Author:
John Rich (1692–1761), important director and theatre manager in 18th-century London.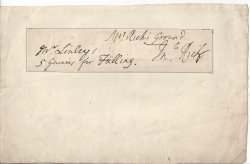 SKU: 23678
Paper, 18 x 4cm, laid down on paper, 15 x 24cm, grubby, Signature of John Rich with note and a title[?], as follows: Mrs Rich's Ground | Mr Linley | 5 Guineas for Fülling | Jn. Rich. No illumination from Google. John Rich's signature and autograph apparently hen's teeth. Perhaps Rich is best remembered for the success of John Gay's Beggar's Opera and the 'invention' of Pantomime..
Phone enquries
RICHARD M. FORD
Tel: +44 20 8993 1235