[Nina Hamnett Annotation; Queen of Bohemia; Periodical] Wales 3
Author:
Keidrych Rhys, Editor [Nina Hamnett]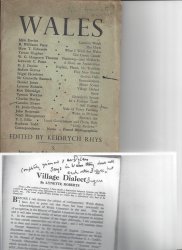 Publication details:
January: February: March, 1944.
SKU: 23706
Printed wraps, advts back and front, pp.[1]-116, wraps dulled, stained and sl. worn, Contents in good condition, including Daniel Jones, Vernon Watkins, John Betjeman, Ruthven Todd. The phrase Nina Hamnett annotation is written top of front wrap by an unknown hand. See image (includes Contents). Nina Hamnett, artist and writer, the Welsh Queen of Bohemia has ticked Caradoc Evans entry Self Portrait, in the Contents, adding the word fun, AND added to the article by Lynette Roberts, Village Dialect, the words completely [?] & as Dylan says in Wales they don't call each other Bugger but Bugrrr. See Image, composite of this statement and the front/Contents.
Keywords:
Phone enquries
RICHARD M. FORD
Tel: +44 20 8993 1235