[Robert Southey, Poet] Holograph Addressed Envelope Only To | The Revd Edwin Sidney | Acle, | near | Norwich.
Author:
Robert Southey (1774 – 1843), (Lake) Poet.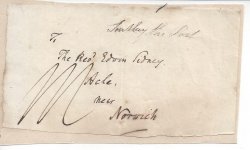 SKU: 23716
Piece of paper irregularly cut, c.11 x 6cm, tipped onto very slightly larger piece of paper. Docketed Southey the Poet in another hand. Sl stained, mainly good condition. See image. Sidney was apparently an autograph collector (see Googled entry Edwin Sidney of Acle on iCollector).
Keywords:
Phone enquries
RICHARD M. FORD
Tel: +44 20 8993 1235