[Arnošt Vilém Kraus, Czech historian.] Autograph Signature ('Dr Arnost Kraus') from the autograph collection of Howes Norris Jr.
Author:
Arnošt Kraus [Arnost Kraus; Arnošt Vilém Kraus] (1859-1943), Czech historian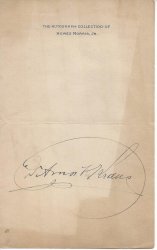 Publication details:
Without date or place. Printed at head of page: 'The Autograph Collection of Howes Norris, Jr.'
SKU: 23945
1p, 12mo. In good condition, on aged paper, with patches of lighter and darker discolouration from varying exposure to sunlight. Good firm signature, enclosed in circular flourish: 'Dr Arnost Kraus'. See image.
Keywords:
Phone enquries
RICHARD M. FORD
Tel: +44 7884 315 545