[Rafael Bilboa, Chilean dissident; Chile; father of Francisco Bilboa] Autograph Letter Signed Rafl Bilboa to Al [Admiral?] Sir Waldegrave [William Waldegrave (1788–1859), naval commander, asking for a berth into exile. With his response.
Author:
Rafael Bilbao, Chilean dissident, father of Francisco Bilboa, Chilean writer, philosopher and liberal politician.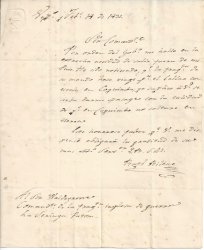 Publication details:
[Valp. for Valparaiso?] 17 Feb. 1831. Waldegrave's initialled response dated N.N.S.S. [?]Val[paraiso] 17 Feb. 1831.
SKU: 24164
[Bilbao letter. SEE IMAGE for its contents, a request for going into exile on Waldegarve's ship] One page, 4to, part of bifolium of which Waldegrave's reply (presumed to be in his hand) is p.3, as follows: Sir | I have the honor to acknowledge the receipt of your lketter of this day sating that the Gov[ernment] of Chili had ordered you to quit the country and requesting of me a passage to Callas [Peru] and promnising me that you will not leave my ship [at Coquimbo [Chile] when she calls at Coquibo. | [I]t will afford me great pleasure to be of assistance to you & I will give you a passage in the [HMS] Seringapatam to Callas upon the understanding that you do not quit my ship without my permission. | Don Rafael Bilbao | etc etc etc  [Signed] "W.W." Note: There is scant information about Rafael Bibao on the Internet (or elsewhere perhaps). One line in the Wikipedia entry for his son, Francisco, suggesting exile in 1829 rather than the 1831 of this letter. Other links giving information that doesn't quite jibe with this letter may be found on Googlebooks.
Phone enquries
RICHARD M. FORD
Tel: +44 7884 315 545