Corrected galley proofs headed '125783 - BOOKLET - ONE | Queensland's Breach of Contract.'
Author:
[Breach of Contract for Pastoral Leases in Queensland, Australia, 1923]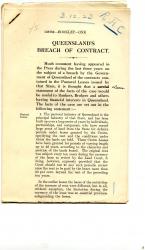 Publication details:
In blue pencil at head '3. 12. 23 [3 December 1923] R. H. C.'
SKU: 8397
On one side each of five 46 x 14.5 cm slips of paper. Good: slightly aged and with rusting to staple. Begins 'Much comment having appeared in the Press during the last three years on the subject of a breach by the Government of Queensland of the contracts contained in the Pastoral Leases issued by that State, it is thought that a clear [altered from 'careful'] statement of the facts of the case would be useful to Bankers, Brokers and others having financial interests in Queensland. The facts of the case are set out in the following statement: - [...]'. Six minor manuscript changes to the text, and on the reverse of one leaf: 'In Australia similarly representative local leaders of the Pastoralists as also the Australian strongly protested.' There is no entry under the title 'Queensland's Breach of Contract' in either COPAC or WorldCat.
Phone enquries
RICHARD M. FORD
Tel: +44 7884 315 545