[Antonia Fraser; International P.E.N.] Typed Agenda, heavily doodled by Lady Fraser, for a Meeting of the Executive Committee of the English Centre of International P.E.N.
Author:
[Antonia Fraser] Antonia Fraser [Lady Antonia Margaret Caroline Fraser (née Pakenham; born 27 August 1932), author of history, novels, biographies and detective fiction]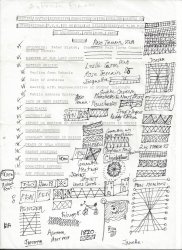 Publication details:
To be held at Dilke Street at 5.00 P.M. on Wednesday, 29th June 1983.
SKU: 23571
One page, sm. folio, fold marks, very small closed tears, basically good condition. The Agenda (typescript) includes: Apologies; Minutes of the Last Meeting, Matters Arising [...]; Date of next meeting; Candidates; Report of Meeting of Assembly of Delegates in Venice; Caracas Conference; Honorary Members in Prison; Death of Bela Menczer [...]; Any Other Business. Lady Fraser has put a tick or cross beside each item except Any Other Business. And heavily doodled (perhaps a little bored?) with patterns, names (Leslie Caron, Rose Tremain, Jaquetta, Janetta, Lewis Carroll, Michael Foot), and other snippets. See image. 
Phone enquries
RICHARD M. FORD
Tel: +44 7884 315 545