[Printed facsimile; Hymn] From Greenland's Icy Mountains [Twas when the Seas were roaring].
Author:
Reginald Heber, sometime Bishop of Calcutta.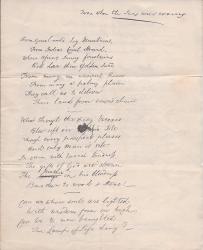 Publication details:
Published & Sold by Hughes & Son, Wrexham, [1899].
SKU: 10127
Four pages, 4to, bifolium, stains and small closed tears on fold marks, mainly good condition, comprising: Facsimile of Heber's words for the Hymn commencing "From Greenland's Icy Mountains" and concluding ([p.2]) "Redeemer, King, Creator, in bliss returns to reign" (Note at foot of p.[2] "The obliterations in the second and Fourth Verses are caused by the Printer's file"; p.[3] For the story of the writing of the hymn (see http://www.cyberhymnal.org/htm/f/r/fromgrim.htm); p.[4] Typed Letter Signed "Ellis Lever", "coal contractor", Brooklawn, Southport, April 8th, 1899, explaining to the addressee, The Right Reverend, The Lord Bishop of Newcastle (Edgar Jacob), "On the eve of the Centenary of the Church Missionary Society, may I ask your Lordshiop's kind acceptance of a fac-simile of Bishop Heber's immortal Missionary Hymn, together with a record of the circumstances under which it was inspired and written, eighty years ago." Not listed on COPAC. The MS is apparently in the John Rylands Library.
Phone enquries
RICHARD M. FORD
Tel: +44 20 8993 1235