Autograph Letter Signed "F.O. Bower", botanist, to Dr. W.B. Crow [William Bernard Crow, biologist , etc., Author of 'A History of Magic, Witchcraft and Occultism']
Author:
F.O. Bower [Frederick Orpen Bower FRS] (1855–1948), British botanist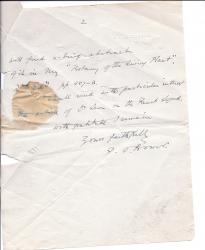 Publication details:
2 The Crescent, Ripon, Yorks, 15 April 1932.
SKU: 10172
Two pages, 4to, several closed tears, two small hole, one stain, 1in. dia., on p.2. , text clear and complete. "I am much obliged to you for sending me a copy of your 'Proteus' No.6 - the Goethe Commemoration Number. It was a happy idea to concentrate on this centenary. My interest naturally centres on the 'Metamorphosis of Plants'. Had Goethe lived as a post Darwinian his keen insight would have led him to a rather different statement of his great synthesis. He would have accepted I am pretty sure a theory of segregation rather than a theory of metamorphosis. I wrote on this matter long ago, and if you are interested in the alternative view you will find a brief extract in my 'Botany of the Living Plant,' ...| I shall read with particular interest the article of Dr Leon on the Faust Legend."
Phone enquries
RICHARD M. FORD
Tel: +44 20 8993 1235