Autograph Letter Signed ('P-N. Bonaparte.. | Repr. du Peuple'), in French, from Pierre-Napoleon Bonaparte to Lieutenant-Colonel Lherbette, requesting that Samuel Colt be admitted 'aux expériences de tir des carabines à tige des chapeurs à pied'.
Author:
Pierre-Napoléon Bonaparte (1815-1881), son of Lucien Bonaparte, deputy for Corsica to the Constituent Assembly of 1849 [Samuel Colt (1814-1862), inventor and manufacturer of the celebrated revolver]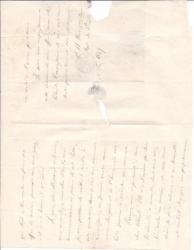 SKU: 10974
12mo, 3 pp. Thirty-six lines. Text clear and complete. Good, on lightly-aged paper. Addressed by Bonaparte, with stamp, red wax seal and postmarks, on reverse of second leaf, to 'Monsieur le Lieutenant-Colonel Lherbette Adt. au comm. de l'artillerie dans la 1re. division militaire | Vincennes'. Were he not leaving for the country, he would have presented in person 'Mr. Colt, citoyen des Etats-Unis, inventeur d'un ingénieux système d'armes à feu à plusieurs coups'. He and his 'cousin Murat [Joachim-Napoléon Murat (1767-1815)]' will be obliged if Colt can be admitted 'aux expériences du [sic] tir des carabines à tige des chapeurs à pied, quand elles auront lieu'. His colleague, 'le capitaine Tamissier, instructeur du tir à Vincennes', can brief him if necessary. It is his 'désir de faire admirer à un honorable et cordial étranger nos perfectionnemens en matière d'armes portatives'. According to one authority (Howze, Cooper and Kornhauser, 2006), Colt was selling his pistols to the nations of Europe around this time, gaining large orders by playing them off against one another at a time of high demand due to strained international relations.
Phone enquries
RICHARD M. FORD
Tel: +44 20 8993 1235