[ Sir Isaiah Berlin, philosopher. ] Typed Letter Signed ('Isaiah Berlin') to 'Stewart' [ William McCausland Stewart ], discussing his poem 'Alcaics' and criticising the 'experts' on E. M. Forster for 'misdirected scholarship'.
Author:
Sir Isaiah Berlin (1909-1997), Russian-British philosopher and historian of ideas [ William McCausland Stewart (1909-1989); E. M. Forster ]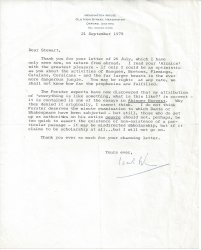 Publication details:
On letterhead of Headington House, Old High Street, Headington, Oxford. 21 September 1978.
SKU: 19387
1p., 4to. Lightly aged and creased. He begins, on his return from abroad, by thanking Stewart for his 'Alcaics' (presumably his 'Staggering on to the Year Two Thousand: Alcaics for Our Age'), which he read 'with the greatest pleasure - if only I could be as optimistic as you about the activities of Basques, Bretons, Flemings, Catalans, Corsicans - and the far larger beasts in the ever more dangerous jungle.' Stewart 'may be right: at any rate, we shall not know how far the prophecies are fulfilled.' He next turns to the 'Forster experts', who have 'discovered that my attribution of "everything is like something, what is this like?" is correct - it is contained in one of the essays in Abinger Harvest. Why they denied this originally, I cannot think.' He does not believe that Forster 'deserves the minute examination to which Dante or Shakespeare have been subjected - but still, those who do set up as authorities on his entire oeuvre should not, perhaps, be too quick to assert the existence or non-existence of a particular passage - it may be misdirected scholarship, but if it claims to be scholarship at all . . . but I will not go on.' He ends by thanking him 'ever so much' for his 'charming letter'.
Keywords:
Phone enquries
RICHARD M. FORD
Tel: +44 20 8993 1235