[ J.O.; Book ] The Story of the Mhow Court-Martial with Notes and an Appendix
Author:
J. O. [Jacob Omnium, pseud., i.e. M. J. Higgins.]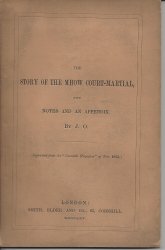 Publication details:
London: Smith, Elder and Co., 65 Cornhill, 1864
SKU: 23017
[iv].80pp., 8vo, beige paper wraps, dusted, good condition. Reprinted from the Cornhill Magazine of November 1863. This edition scarce, copies recorded in BL, North Carolina and Australia.
Phone enquries
RICHARD M. FORD
Tel: +44 20 8993 1235