[Frank A. Nankivell; Australian Artist] Autograph Note Signed FrankANankivell to Mr. [Howes] Norris, autograph collector, jocularly replying with his autograph.
Author:
Frank A. Nankivell [Frank Arthur Nankivell (1869–1959) was an Australian artist and political cartoonist, known for his caricatures in publications such as Puck.]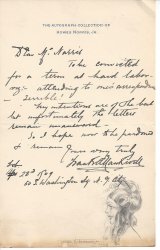 Publication details:
[Printed Heading] The Autograph Collection of Howes Norris, Jr. Place & date by Nankivell, 50 S. Washington Sq. N.Y. City, 23 Feb. 1909,
SKU: 23461
One page, 12mo, bottom edge stained but not obscuring a 5 x 3cm pencil sketch of a woman with big hair (see image), mainly good condition. Text: To be convicted for a term at hard labor - viz:- attending to one's correspondence - Terrible! | My intentions are of the best but unfortunately the letters remain unanswered - | So I hope now to be pardoned and remain | Yours very truly [...].
Phone enquries
RICHARD M. FORD
Tel: +44 7884 315 545