[ Wolfenden Report; homosexuality] Clipped Signature J.F. Wolfenden.
Author:
John Frederick Wolfenden, Baron Wolfenden, (1906-1985), educationalist, best remembered for the report, recommending the decriminalisation of homosexuality (1957).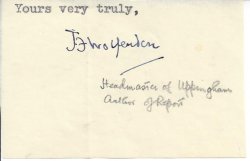 SKU: 23534
Clipping from Typed Letter signed, 8.5 x 5.5, good condition. Only typed text Yours very truly followed by signature. Docketed in another hand in pencil Headmaster of Uppingham | Author of Report. See image.
Phone enquries
RICHARD M. FORD
Tel: +44 20 8993 1235