Typed Letter Signed ('W. H. H. Southerland') to Carlton Chapman.
Author:
W. H. H. Southerland [William Henry Hudson Southerland (1852-1933)], Admiral in the United States Navy [Carlton Chapman; Spanish-American War; Cuban Blockade]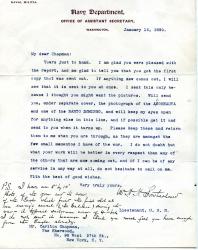 Publication details:
16 January 1899. On letterhead of the Navy Department, Office of the Assistant Secretary, Washington.
SKU: 9246
4to, 1 p. Fifteen lines of typewritten text and seven-line autograph postscript. Text clear and complete. Good on lightly aged and creased paper. Concerning Southerland's involvement in the Spanish-American War, in which he commanded the gunboat Eagle in the blockade of Cuban ports. He is glad Chapman is pleased with the report. He will send 'the photograph of the ARGONAUTA and one of the SANTO DOMINGO'. He asks for them to be returned, as they are 'amongst the few small mementos I have of the war'. In the postscript he writes that he has 'an 8'' by 10'' photo. of the gun and its crew, of the Eagle which fired the first shot at an enemy's vessel (hi Galieia) during the war. - A typical sailorman crew of 4', which he will not send because he thinks Chapman has 'enough from the Eagle already'.
Phone enquries
RICHARD M. FORD
Tel: +44 7884 315 545