Large printed 'Prix-Courant' advertisement, in French, for a dealer in fireworks, headed 'Fabrique de Feux d'Artifices | Cornesse-Pepinster [Belgium] | M. Dresse, artificier de la ville de Liége. | Jacques Dresse, Succcesseur.'
Author:
Jacques Dresse, Artificier, à Cornesse-Pepinster [fireworks; firework displays; pyrotechnics]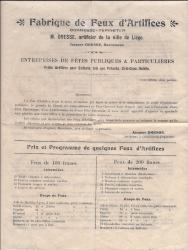 SKU: 9682
4to, 2 pp. Bifolium, with first page on verso of second leaf, and second on recto of first. Text clear and complete. Good, on lightly-aged semi-opaque paper. The 'Prix et Programme de quelques Feux d'Artifices' follow a short introduction by Dresse. Prices range from 'Feux de 100 francs' to 'Feux de 500 francs', the latter including 'Moulin de Don Quichotte' and 'Chutes de Niagara, en feux au magnésium, 6 forts jets donnant une clarté ébloussante avec une pluie blanche merveilleuse.' Final sections headed 'Articles divers' and 'Conditions et Observations Generales'. According to a Belgian commission into war crimes committed in the First World War, Dresse's house was set fire to by 'une centaine de soldats allemands' on 12 August 1914.
Phone enquries
RICHARD M. FORD
Tel: +44 7884 315 545