[George Formby; ukelele] Autograph Signature with date of 'Beryl' Formby.
Author:
Beryl Formby [Beryl Ingham, actress wife of George Formby, actor, singer-songwriter and comedian]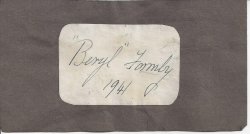 SKU: 24555
See Image. Signature and date ('Beryl' Formby | 1941) on piece of paper, 6 x 4, rounded corners, good condition, laid down on larger piece of paper, 12 x 6.5cm. On reverse the signature of Leslie Henson, actor etc. Note: She was positive in his career in some aspects but was obviously difficult. After her death, Formby publicly said that 'My life with Beryl was hell'.
Phone enquries
RICHARD M. FORD
Tel: +44 7884 315 545