[Printed pamphlet] His Majesties Fuller Condescentions to all the Propositions . . . With a List of the names of the new Honours of Dukes, Marquesses, Earles, and Lords, conferred by the King. And his Majesties further Desires to both Houses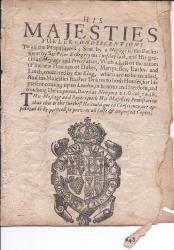 Publication details:
[London : Printed for Adam Marsh, 1648] Note: This imprint NOTpresent due to trimming except for the numerals 648.(dangling!).
SKU: 10033
Full Title: His Majesties fuller condescentions to all the propositions sent by a message to the Parliament by Sir Peter Killegrey on Tuesday last, and his gracious message and protestation : with a list of the names of the new honours of Dukes, Marquesses, Earles, and Lords conferred by the King which are to be recalled, and His Majesties further desires to both Houses for his present coming up to London in honour and freedom, and touching delinquents. With added note on titlepage: Dated at Newport 21 Octob., 1648. This message and papers, with His Majesties protestation that this is the furthest he would goe in conscience, are appointed to be printed to prevent all false & imperfect copies. [8]pp, 4to, inc. title, disbound. Title also has the Royal Coat-of-Arms, the tip of which has been trimmed also losing the imprint; trimming of base and presumably the top given the angle of the type, and strip roughly torn off right margin and wear to spine, staining (aging) of text which is legible and complete. Very scarce. COPAC lists no original copy (electronic and microform and English Short-title Catalogue) and WorldCat lists only two copies, at Yale and the Bavarian State Library. None in UK apparently.
Phone enquries
RICHARD M. FORD
Tel: +44 7884 315 545