[Broadside] Lines printed in the Streets of Bristol, during the Procession in Honour of the Coronation of His Majesty King George IV. July 19, 1821,
Author:
William Henry Somerton of Queen-Street, St Michaels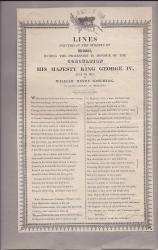 Publication details:
'Entered at Stationers' Hall', [Bristol, 1821].
SKU: 10195
Broadside, trimmed to just outside decorative border for poem, with radiant crown at top, tipped on to detached album leaf, faint marking and creasing, mainly good condition, commencing, Who, that has lived beneath the Brunswick sway .... No copy listed on COPAC which lists a work by Somerton on the Bristol Riots and a work printed by him (as presumably was this broadside).
Phone enquries
RICHARD M. FORD
Tel: +44 7884 315 545