[Book; Limited Edition; Senhouse copy; HEAVILY ANNOTATED LIST] Bentley's Standard Novel Series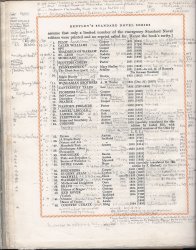 Publication details:
"Printed in Edinburgh, Scotland, for the Colophon, April 1932"
SKU: 12546
Cloth-backed boards, [16]pp. + frontis., 4to, edges and corners rubbed, sl hinge strain, Title on upper cover, frontis (illustration of Bentley bindings), pages within red borders. This is an offprint (no. 44 of 50 copies only) of Sadleir's essay in "The Colophon" in 1932, which later appeared in a slightly revised form in "Nineteenth-Century Fiction", vol.II, revisions of "style rather than content". This copy was apparently acquired by Roger Senhouse, co-owner of Secker & Warburg, in 1936 (according to a note by Alex Fothergill, bookseller, former owner). Senhouse has enclosed various cuttings from "The Times", notably Sadleir's obituary, with his MS. note, "He had an operation for cancer of the tongue in 1956 [...] John Carter must in all decency write afteer the Mem[orial Service". (He does indeed add Carter's note on "sadleir the book collector and bibliographer". There is also a letter dated Jan. 1965 from 'Eric' concerning the transfer of five cases of books - almost certainly Senhouse's Bentley Collection, saying, "Might we ask you [...] not to mention the passage of these books to anyone: especially not to John Carter or Dudley Massey [...". The most interesting aspect of this copy is the meticulous listing by Senhouse, in extensive pencilled marginalia, reflecting his own collection of Bentley's Novels. Senhouse appears to have owned at least two-thirds of the 126 titles on Sadleir's list, and has added notes on variant bindings and paginations to many, creating a significant research base. No copy listed on COPAC/WorldCat.
Phone enquries
RICHARD M. FORD
Tel: +44 7884 315 545