[William Osler Father of Modern Medicine] Autograph Postcard Signed W. Osler addressed to Maltby & Son | 30 St Michaels St | Local [Oxford bookbinders].
Author:
William Osler [Sir William Osler (1849–1919), Canadian physician, Father of Modern Medicine]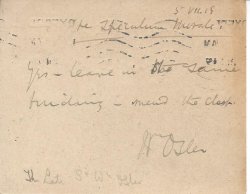 Publication details:
[Oxford] 5 July 1919 [N.B. He died in December of this year]
SKU: 23593
Postcard, 11 x 9cm, some scuffing of an edge (perhaps formerly tipped into an album or similar), good condition, saying simply Re Speculum Morale || Yes - leave in the same binding - mend the clasp. | Wm Osler. Note: Speculum maius (greater Mirror) was a major encyclopedia of the Middle Ages, written by Vincent de Beauvais in the 13th century. It was a great compendium of all knowledge of the time. The work seems to have consisted of three parts: the Speculum Naturale, Speculum Doctrinale and Speculum Historiale. However, all the printed editions include a fourth part, the Speculum Morale, added in the 14th century and mainly compiled from Thomas Aquinas, Stephen de Bourbon, and a few other contemporary writers. (Wikipedia).
Phone enquries
RICHARD M. FORD
Tel: +44 7884 315 545