[Garret Hobart, Vice-President USA] Business Card signed Yours very sincerely | Garret A. Hobart | Vice President | May 21/98
Author:
Garret A. Hobart [Garret Augustus Hobart (1844 – 1899), 24th vice president of the United States].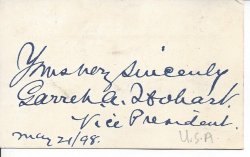 SKU: 23630
Business Card, 10 x 6cms, sl. smudged, text clear and bold. Text as above on one side (see image), on the other is printed The Vice President. One website claims the signature is scarce.
Phone enquries
RICHARD M. FORD
Tel: +44 7884 315 545