[Prince Leiningen; Royal Navy] Autograph Letter Signed Leiningen to General Brine
Author:
Prince Leiningen [Ernst Leopold, 4th Prince of Leiningen (1830 -1904), German nobleman who served with distinction in the Royal Navy.]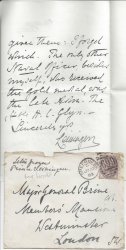 Publication details:
[Headed] Admiralty House, Sheerness [postmark smudged 10 July 8[3?]]. With original envelope.
SKU: 23661
Two pages, 12mo, fold mark, good condition. Text: The wide ribbon was issued to myself & the other officers of the Expedition in 1854 [Crimean War] together with the gold Turkish medal.- The men did not get it, but if I remember right they had silver or bronze medals given them: I forget which. The only other Naval [underlined] officer besides myself, who received the gold medal, was the late Adm[iral] The H[onoura]ble H.C. Glyn. Note: LEININGEN, Prince of , served in " Cossack in the Baltic during the Russian war ( Baltic Medal ) ; received 2 Gold Medal from the Turkish Government for distinguished service in the field under Omar Pasha, 1854.
Keywords:
Phone enquries
RICHARD M. FORD
Tel: +44 7884 315 545