[Anselme Payen; French chemist] Note Signed Payen with flourishes to Mon cher colleague. See image.
Author:
Anselme Payen (1795 – 1871), French chemist known for discovering the enzyme diastase, and the carbohydrate cellulose.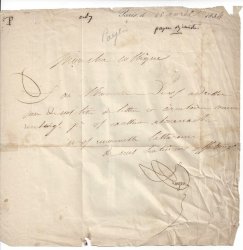 Publication details:
Paris le 28 avril 1834 [partly printed].
SKU: 23726
One page, 20 x 19cm, part crumpled, and stained, small chips on edges, text which, despite disparity from signature, must surely be in Payen's hand, just legible and complete. Docketed in another hand. See Image.
Phone enquries
RICHARD M. FORD
Tel: +44 7884 315 545