[G.W. Daniels, Political Economist] Autograph Letter Signed G.W. Daniels to The Secretary | Royal Society of Arts about reading a paper.
Author:
G.W. Daniels [George William Daniels FSS (1878 – 1937), political economist and historian who was Vice-President of the Chetham Society and President of the Manchester Statistical Society].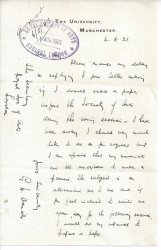 Publication details:
[Headed] The University, Manchester, 4 August 1921. Royal Society of Arts stamp.
SKU: 23727
One page, 8vo, fold marks, good condition. He apologises for the delay in replying to the letter asking if I would read a paper before the Society of Arts during the coming session - I have been away. I should very much like to do as you request but I am afraid that my movements are too uncertain to make a promise. The subject is an attractive one and if you feel inclined to write me again, say for the following session, I would do my utmost to prepare a paper. See image.
Keywords:
Phone enquries
RICHARD M. FORD
Tel: +44 7884 315 545