[Catherine Hutton; African Exploration] Holograph Manuscript Description and Statement to accompany an ALS [NOT PRESENT] of James Grey Jackson in an Album of her Renowned Collection of Autograph Letters.
Author:
Catherine Hutton [ (1756 – 1846), novelist and letter-writer. [And Autograph-collector: During her lifetime she wrote to many famous people and collected over 2000 valuable letters.]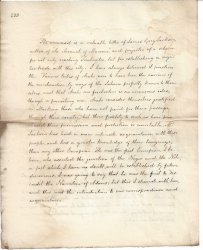 Publication details:
No place or date [Album leaf numbered 229, 230] SEE IMAGE for full text.
SKU: 24469
Catherine maintained frequent and regular correspondence throughout her life with family, friends and others, including famous contemporaries and she also collected autograph letters. She also travelled widely. A selection of her correspondence and other personal writings was published by her cousin Catherine Hutton Beale, in 1891, in Reminiscences of a Gentlewoman of the Last Century and this publication includes extracts from the diary and letters which form part of this collection. Statement in her hand [NOT signed]. Two Pages, 4to, pp.229-230, small closed tear, water-staining but text clear. On P.229, in Hutton's hand, she delivers an eight-line biography of William Bullock, collector and travel-writer. On p.230, she writes a 20-line statement taking off from the letter from James Grey Jackson and including her authoritative views (which she obviously expects to be respected): The annexed is a valuable letter of James Grey Jackson, author of An Account of Morocco, and projector of a scheme for not only reaching Timbuctoo, but for establishing a regular trade with this city. I have always believed it practicable. Various tribes of Arabs were to have been the carriers of the merchandise, by ways of the Sahara pefectly known to themselves, and that Arabs were to have been the carriers of the merchandise, by ways of the Sahara perfectly known t themselves, and that Arabs are freebooters is an erroneous idea, though a prevailing one. Arabs consider themselves justified in attacking those who have not paid for their passage through theor country; but their fidelity to such as have purchased their permission and protection is inviolable. Mr. Jackson has had a more intimate acquaintance with these people, and has a greater knowledge of their language, than any other European. He was the first European, I believe, who assterted the junction of the Niger and the Nile, a fact which, I have no doubt, will be established by future discoveries. I was going to say that he was the first to discredit the Narraative of Adams; but this I shared with him, and this was the introduction to our correspondence and acquaintance. This final claim by Catherine Hutton is supported by at least one of the Letters she wrote. See James Grey Jackson, An Account of Timbuctoo and Housa (1820), p.457, where her letter to the Editor of the Monthly Magazine is quoted, saying I am inclined to believe that Adams has been at Timbuctoo, though I do not consider it proved [...]. See also Hutton's Tour of Africa. Containing a Concise Account of All the Countries in That Quarter of the Globe, Hitherto Visited By Europeans; with the Manners and Customs of the Inhabitants.
Phone enquries
RICHARD M. FORD
Tel: +44 7884 315 545