[Laurence Humphries; Catholic Martyr] Commemorative Seal with Printed Encomium.
Author:
Laurence Humphreys (1571 – 7 July 1591), English Catholic martyr.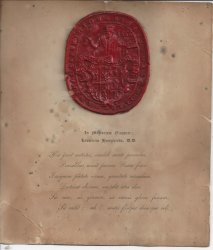 Publication details:
Presumably the year of his beatification, 1929.
SKU: 24686
See image for text of Latin encomium and detail of seal. . Card Base, 14 x 16cm, sl. damage not affecting text, spotting and aging, text legible. Seal sl. damaged. See image.
Keywords:
Phone enquries
RICHARD M. FORD
Tel: +44 7884 315 545