[Laurence Alma Tadema, author, children's poet, daughter of the Artist] Autograph Letter Signed Laurence Alma Tadema about the publication of children's poems.
Author:
Laurence Alma Tadema [Laurence Alma-Tadema (1865 – 1940), British writer of the late 19th and early 20th centuries, daughter of the Artist.]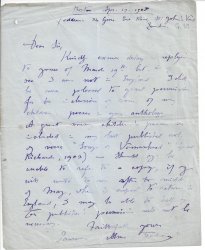 Publication details:
Boston 12 April 1908 (also giving her London address).
SKU: 25065
One page, 4to, a little grubby and worn at edges, some text faded but all legible. See image. Text: Dear Sir, | Kindly excuse delay in replying to yours of March 19th but, as [you] see, I am not in England [touring America, 1907-8]. I sh[ou]ld be very pleased to grant permission for the inclusion of some of my children's poems in your anthology. A great many children's poems are included in my last published vovl. of verse 'Songs of Womanhood' (Grant Richards, 1903) - Should [you] be unable to refer to a copy, if you will write to me after the middle of May when I expect to return to England, I may be able to help [you]. The publisher's permission will not be necessary [...] Note: Perhaps the planned anthology was An Anthology of Babyhood (Hutchinson, 1912).
Keywords:
Phone enquries
RICHARD M. FORD
Tel: +44 7884 315 545