[General Sir George Don, as Lieutenant Governor of Jersey.] Autograph Signature ('Geo. Don / Genl & Lt Govr') to part of a document regarding 'clemency'; with part of another document, relating to a Gibraltar court martial.
Author:
Sir George Don (1756-1832), British general and successively Lieutenant Governor of Jersey and Governor of Gibraltar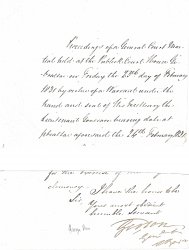 Publication details:
First document: no place or date. Second document: Gibraltar, 25 February 1831.
SKU: 25235
See Don's entry in the Oxford DNB. He was Lieutenant Governor of Jersey between 1806 and 1814, and acting Governor of Gibraltar, 1814-1821 and 1825-1831. The two items are on different paper stock, but both relate to Don, and may be related. (While Don was acting Governor of Gibraltar, he is described as 'His Excellency the Lieutenant Governor' in the second item.) ONE: On one side of an 18.5 x 7.5 cm piece of laid paper. In good condition, with three folds and small pin-holes to one corner. The body of the text is in a secretarial hand, and reads: '[...] for the exercise of the [royal] clemency. - / I have the honor to be / Sir, / Your most obedient / humble Servant'. Don signs: 'Geo. Don / Genl & / Lt Govr'. TWO: On both sides of 18 x 14 cm piece of laid paper. In fair condition, aged and creased, with one fold. One side reads: 'Proceedings of a General Court Martial held at the Publick Court House Gibraltar on Friday the 25th. day of February 1831 by virtue of a Warrant under the hand and seal of His Excellency the Lieutenant Governor bearing date at Gibraltar aforesaid the 24th. February 1831.' The other side reads: '[...] Acting Deputy Judge Advocate being duly sworn proceeded to the trial of / David Gilbert Lance Corporal in the 42nd Regiment of Royal Highlanders placed in confinement by order of His Excellency the Lieutenant Governor of this Garrison upon the following charge vizt. / That the said David Gilbert Lance [...]' ('Charge' is in the margin beside the last line.)
Phone enquries
RICHARD M. FORD
Tel: +44 7884 315 545