Autograph Letter Signed to "William Lyster", operatic entrepreneur, introduced Wagner to Australia.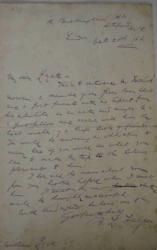 Publication details:
12 Buckingham Street, Strand, WC [London}, 28 Oct. 1880.
SKU: 7267
One page, 8vo, grubby but text clear and complete. He introduces a colleague from his Green Room, Frederick Mervin, whom he describes as a good fellow as well as an actor and singer of ability. He hopes his correspondent will make Mervin's "trip to the Colonies pleasant to him (presumably Australia) . "I hear all the news about you from your brother Alfie when I meet him. I trust this new venture will be hugely successful." Note: Lyster opened in Melbourne with a new company but died in Nov. 1880, presumably shortly after receiving this letter.
Phone enquries
RICHARD M. FORD
Tel: +44 20 8993 1235