Grammatical Sketch and Specimens of the Berber Language: preceded by four Letters on Berber Etymologies . . .Read October 2nd, 1829.
Author:
William B. Hodgson (1801-1871), scholar-diplomat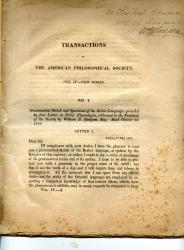 SKU: 9300
Offprint, "Transactions of the American Philosophical Society", vol.iv, New Series, brown paper wraps, 48pp., 4to, two one-word corrections in Hodgson's hand, some foxing, marginal chipping of page edges, fair. INSCRIBED "To President Adams | With the hommage | of W B Hodgson". Note: Hodgson served in the State Department through the influence of Henry Clay who, when secretary of state in Adams's administration, "assigned Hodgson to the Barbary States . . ."
Phone enquries
RICHARD M. FORD
Tel: +44 20 8993 1235