Autograph Note Signed Byron Webber, novelist, to Edward Draper, solicitor, author, member of Savage Club.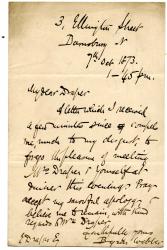 Publication details:
3 Ellington Street, Barnsbury N [London], 7 Oct. 1873.
SKU: 9342
One page, 12mo, good condition.He has received an unwelcome letter which prevents him dining with the Drapers, for which he apologises prufusely.
Keywords:
Phone enquries
RICHARD M. FORD
Tel: +44 20 8993 1235