[ Julius Beerbohm, traveller and poet, half-brother of Max Beerbohm ] Manuscript Poem Signed J Beerbohm (calligraphically). See image.
Author:
Julius Beerbohm [ Julius Beerbohm (1854 – 1906), Victorian travel-writer, engineer, explorer and poet.]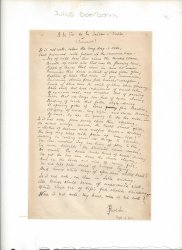 Publication details:
No place, but dated by him 9 Sept. 90.
SKU: 23334
32 line poem, cr.8vo, in a frame of an album page (detached), 4to, one ragged edge, celebrating summer, commencing: Is it not well, when the long day is over, | That brimmed with fulness of the summer time-| - Joy of wild bees that roam the the scented clover; [....] See image for full text. Verso: Sentiment by obscure German.
Keywords:
Phone enquries
RICHARD M. FORD
Tel: +44 20 8993 1235