Autograph Letter Signed ('Danl Lysons') from Daniel Lysons to fellow-antiquary Samuel Pipe Wolferstan, containing substantial information concerning the manors of Heathcote and Swadlincote, for inclusion in the Derbyshire volume of 'Magna Britannia'
Author:
Daniel Lysons (1762-1834), antiquary [Samuel Pipe-Wolferstan (1751-1820)]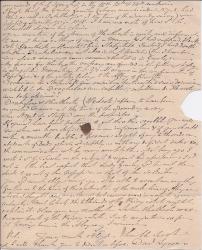 Publication details:
27 February 1817; Rodmarton.
SKU: 9511
4to, 4 pp. Bifolium. 105 lines of text. Clear and complete. Good, on lightly-aged paper. Black wax seal with impression of 'D L' adhering to reverse of second leaf, which is postmarked 'LOUGHBOROUGH | 109' and franked '1817 | Loughborough March Eight | S. Pipe Wolferston [sic] Esqr | Stotfold Hall | Tamworth | [signed] P. Gell'. Begins 'I have recd. your obliging communication of the 22d. which has arrived in good time - for altho' the Derbyshire volume [of the Lysons' 'Magna Britannia'] is actually in the press, we [Lysons and his brother Samuel] have not yet proceeded farther than letter D. It will certainly not be long ere we arrive at G. I am sorry you should have had the trouble of detailing the history of Swadlingcote so much at length. It will however enable us to give our concise account much more correctly & satisfactorily.' A postscript discusses the probable number of volumes.
Phone enquries
RICHARD M. FORD
Tel: +44 7884 315 545