[ Edwardian theatrical manuscript magazine. ] 'Ye Piecan's Gazette No 8', entirely in manuscript, with hand-coloured covers.
Author:
[ 'Ye Piecan's Gazette', Edwardian theatrical manuscript magazine, edited by 'R. B.' ]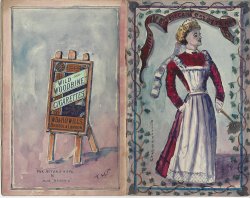 Publication details:
Place not stated [ English ]. Vol. |1 No. 8 [ 1903 ].
SKU: 17844
11pp., 12mo. Stapled into card covers. In good condition, with light signs of age and wear. Covers illustrated in colour by 'T. U. P.' The front cover carries, with the title, an illustration of a maid with a duster, captioned 'BESSAY NOTHING'. Humorous in intent. The back cover incorporates a cigarette card for 'Wild Woodbine', depicted on an easel, with title '"The Actor's Hope" & "Our Despair"' (Woodbines are a recurring theme.) The magazine has a distinct theatrical bent, with two pages of spoof 'Cards', including ones for the actresses Winnie Acton, Nina Yaughton, Ida Bell and Maude Yorke, and a page headed 'Theatres Wanted'. Articles are titled: 'Editor's Educational Enterprize', 'Momberism', 'Interesting Interview "Flowery Fannie" by Inkspot', 'Feminine Fearful Fancies & Fashions', 'Piecan's Progressive Page' (beginning 'We have it on good authority that several members of the company, are going into Pantomime.') and 'Grand Prize Competition', the last asking for replies no later thahn 26 November 1903.
Keywords:
Phone enquries
RICHARD M. FORD
Tel: +44 20 8993 1235