[Bill Burgess; T.W.Burgess, Channel swimmer] Signature Only T W Burgess
Author:
Thomas William Burgess (1872 – 1950), second person to successfully complete a swim of the English Channel after Matthew Webb.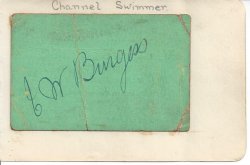 SKU: 23446
Green Card, 9 x 6cm, laid down on small album page sl. larger than the card, Some creases at corner and across the B of Burgess, sl. soiled but signature clear. See image.
Phone enquries
RICHARD M. FORD
Tel: +44 7884 315 545