[Bishop Alexander Cameron and others; Manuscript] Heritable Bond signed on every page by Bishop Alexander Cameron, Alexander Badenoch, Alexander Dick (accountant), George Brown (lawyer), James Francis Kyle (became RC Bishop in 1827)
Author:
Dr Alexander Cameron [(1747–1828), Roman Catholic bishop who served as the Vicar Apostolic of the Lowland District, Scotland]., and Others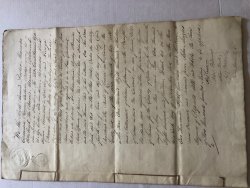 SKU: 23450
MS.11 pages, folio, bound with string, last page dusted and grubby, mainly good condition. All pages have the five signatures. Image of first page available.
Keywords:
Phone enquries
RICHARD M. FORD
Tel: +44 7884 315 545