[Valentín Gómez Farías; Mexico] Signature with final flourish only. See image.
Author:
Valentin Gomez Farias [(1781 – 1858), President of Mexico twice.].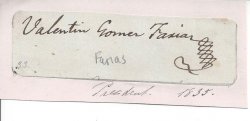 SKU: 23467
Piece of paper 9 x 2.5cm, laid down on slightly larger card, with docketing President 1835, sl. grubby but clear and bold. Notes (from Wikipedia): A. President of Mexico during two main periods: one in the early 1830s and one in the late 1840s, when he served as president during the Mexican-American War. In his first term, he enacted significant liberal reforms that were aimed at undermining the power of the Roman Catholic Church and the army in Mexico ; The Mexican Cession consisted of present-day U.S. states of California, Nevada, Utah, most of Arizona, the western half of New Mexico, the western quarter of Colorado, and the southwest corner of Wyoming.
Keywords:
Phone enquries
RICHARD M. FORD
Tel: +44 7884 315 545