[Eliza Conder, poet and abolitionist] Holograph Poem with quotation from St Mark's Gospel.
Author:
Eliza Conder, poet and abolitionist, wife of Josiah Conder, editor, abolitionist, well-connected to Romantic authors of his day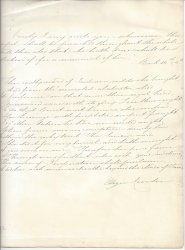 SKU: 23527
One page, folio, signs of extraction from album (left margin has residue of separation), good condition, in her calligraphic writing, good condition. She begins by quoting St Mark's Gospel, Verily I say unto you, wheresoever this gospel shall be preached throughout the whole world, this also that she hath done shall be spoken of, for a memorial fo her. Mark 14th & 9th, || [...] The beginning of this poem/sonnet is to be found in Joseph Conders 'The Choir and the Oratory; Or, Praise and Prayer', p.44, from The costly nard of Indian wilds she brought to Love thus sought (line 4) but the last are different, from To do that Guest meet honours, else [unfraid?] [...] And her rich incense breathe beyond the clouds of Time. These latter lines are not to be found on Googlebooks. Note: A short time later, Josiah married Joan Elizabeth Thomas ('Eliza Thomas'), one of his circle of friends with whom he had initially formed a literary association in 1810 to jointly contribute to the book, The Associate Minstrels. She continued to write after her marriage, for example contributing two short narratives 'On the Ausonia Butterfly flying over the Summit of Mont Blanc' and 'The Air Orchis' to The Christian Keepsake in 1837.
Phone enquries
RICHARD M. FORD
Tel: +44 20 8993 1235