[Helmut Gernsheim; photography] Typed Letter Signed Helmut Gernsheim to Ronald Horton responding to a request for Lantern Slides for a lecture, referring to his latest book, and appreciative of comments on his latest work.
Author:
Helmut Gernsheim [Helmut Erich Robert Kuno Gernsheim (1913 – 1995), historian of photography, collector, and photographer.]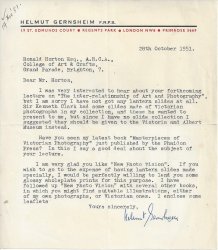 Publication details:
[Printed] 19 St. Edmunds Court, Regents Park, London, NW8, 28 October 1951. Docketed 14 Nov. 51 (presumably the reply date).
SKU: 23597
One page, 8vo, Note: Ronald Horton (1902–1981), Royal Pavilion & Museums Trust, Brighton & Hove. See image. Text: I was very interested to hear about your forthcoming lecture of 'The inter-relationship of Art and Photography', but I am sorry I have not got any lantern slides at all. Sir Kenneth Clark had some slides made of Victorian photographs in my collection, and these he wanted to present to me, but since I have no slide collection I suggested they should be given to the Victoria and Albert Museum instead, | Have you seen my latest book 'Masterpieces of Victorian Photography' just published by the Phaidon Press? In this I say a good deal about the subject of your lecture. | I am very glad you like 'New Photo Vision'. If you wish to go to the expense of having lantern slides made specially, I would be perfectly willing to lend you some glossy wholeplate prints for this purpose. I have followed up 'New Photo Vision' with several other books, in which you might find suitable illustrations, either of my my own photographs, or Victorian ones. I enclose some leaflets. Painter, draughtsman, printmaker, photographer, teacher and bibliophile with strong left-wing convictions.
Phone enquries
RICHARD M. FORD
Tel: +44 7884 315 545