[Elizabeth Vassall Fox, Baroness Holland, political hostess] Autograph Note Signed Elizth Fox to unnamed male correspondent settling a bill but mentioning that she has enclosed autographs which, he has said, his father collects(not present).
Author:
Elizabeth Fox [Elizabeth Vassall Fox, Baroness Holland (1771-1845), political hostess and the wife of Whig politician Henry Vassall-Fox, 3rd Baron Holland.]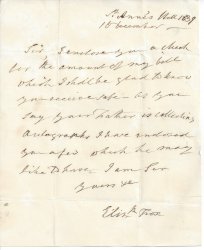 Publication details:
St Anne's Hill 16 Dec. 1839.
SKU: 23704
One page, 8vo, fold marks, good condition. Text: I enclose you a check for the amount of my bill which I shall be glad to know you receive safe- As you say your Father is collecting autogreaphs I have enclosed you a few which he may like to have. See image.
Phone enquries
RICHARD M. FORD
Tel: +44 20 8993 1235