[Stephen King-Hall; Friends of Hansard; Hansard Society] Circular Letter sent to Friend[s] of Hansard with what looks like a stamped signature of Stephen King-Hall. See image
Author:
Stephen King-Hall [William Stephen Richard King-Hall, Baron King-Hall of Headley (1893 -1966), naval officer, writer, politician and playwright, member of parliament for Ormskirk from 1939 to 1945.]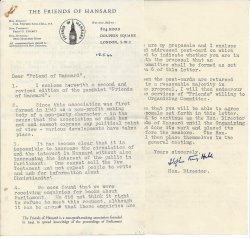 Publication details:
[Printed heading] The Friends of Hansard, War-time address: | 804 Hood | Dolphin Square | London, S.W.!, [Date handwritten] 18.5.44. With list of Officers inc. Margaret Bond and King-Hall himself.
SKU: 23729
Typed (cyclostyled or similar?) Letter Signed as above, three pages, 12mo. very good condition, apart from small rusty hole where formerly stapled. At the bottom of page 1 The Friends of Hansard is a non-profit-making association founded in 1943 to spread knowledge of the proceedings of Parliament though the Friends of Hansard website implies a different origin (Seeing the Prime Minister, Mr Churchill, and his Deputy, Mr Attlee, sitting on a sofa in the Smoking Room of the House of Commons in August 1944, at the height of the War, an independent MP, Stephen King-Hall, summoned up the courage to approach them to see if he could interest them in his 'Friends of Hansard' idea.) This circular letter makes ten points including defining the objectives of the organisation from its not having any political point of view, the need to engage the public, being responsive to public requests for books, the need for democratic machinery, proposals for an organising Committee and its functions, etc. Note: I have yet to find any reference to this Circular Letter.
Keywords:
Phone enquries
RICHARD M. FORD
Tel: +44 20 8993 1235