['Odali Careno' (stage name of Oda Slobodskaya, Russian soprano).] Autograph Note Signed ('Odali Careno'), providing a 'small Autograph'.
Author:
'Odali Careno', occasional stage name of Oda Slobodskaya (1888-1970), Russian soprano associated with Chaliapin, Diaghilev and Stravinsky, who settled in England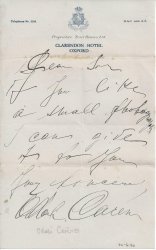 Publication details:
[24 June 1930.] On letterhead of the Clarendon Hotel, Oxford.
SKU: 23943
For Diaghilev Slobodskaya starred in the 1922 Paris premiere of Stravinsky's opera Mavra, and she toured Europe as principal soprano with Chaliapin's company. For her serious operatic work she retained her real name, but she used the stage name 'Odali Careno' when performing in vaudeville and light entertainment. 1p, 12mo. In good condition, lightly aged. Folded twice. Dated in another hand at foot: '24-6-30' (the period of her appearance in a London Palladium production). In a hurried untidy loose hand, she writes: 'Dear Sir / If you like a small Autograph I can give it for You / Yours sincerely, / Odali Careno'. See image.
Keywords:
Phone enquries
RICHARD M. FORD
Tel: +44 7884 315 545