[Henry Mancini, one of the greatest composers in the history of cinema.] Large publicity photograph with Signed Autograph Inscription 'to Ray'.
Author:
Henry Mancini (1924-1994), Hollywood composer regarded as one of the greatest in the history of cinema, whose compositions include 'Moon River' and 'The Pink Panther Theme'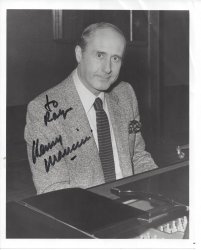 SKU: 23949
A true great: Mancini won four Oscars, a Golden Globe and twenty Grammies. No place or date. Black and white 19 x 23.5 cm print on 20 x 25.5 cm glossy photographic paper. In fair condition, with slight creasing at one corner. In sports jacket and tie, Mancini stares over his piano with the merest of smiles. On the left-hand side of his jacket, in Mancini's autograph, is the inscription, in black felt-tip pen: 'to / Ray / Henry / Mancini'. See image.
Keywords:
Phone enquries
RICHARD M. FORD
Tel: +44 7884 315 545